Heather Vale is a seasoned interviewer, host, journalist, photographer and videographer.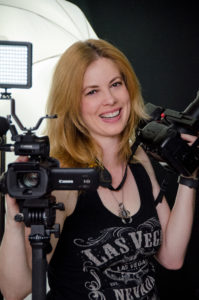 For over 20 years she has worked in all media: TV, radio, print, and online. Originally from Toronto, she now calls Las Vegas home.
Heather works both in front of and behind the camera. She focuses on telling a story through content and is a two-time Top 10 finalist videographer in the Las Vegas Wedding Video Awards.
A professional freelance reporter and show host for radio and TV programs, she has been seen and heard on NBC Sports Radio AM 920, CFRB 1010 AM, EZ Rock 97.3 FM, Z103.5 FM, Foxy 88.5 FM, KLAV 1230 AM, Rogers TV and more.
Her writing has appeared in The Toronto Star, Inside Stratford, The Houston Chronicle, AZ Central, Las Vegas Woman, The Las Vegas Informer, The Indicator, Education.com, Thalo.com, eHow, Top5.com, LiveStrong.com and many other leading publications.